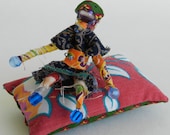 This poseable Wish Doll wears a black dress with orange sash and comes with a musk oil fragrant sachet pillow.
I was inspired by Guatemalan Worry Dolls to make these 3 inch tall flexible wire and bead dolls. I wrap the wire body with fabric remnants or ribbon, and use more to make the dress, sash and braid. I sew seed beads to the braid and sash. Each is slightly different, with different combinations ...
Click Here to Visit My Etsy Shop!